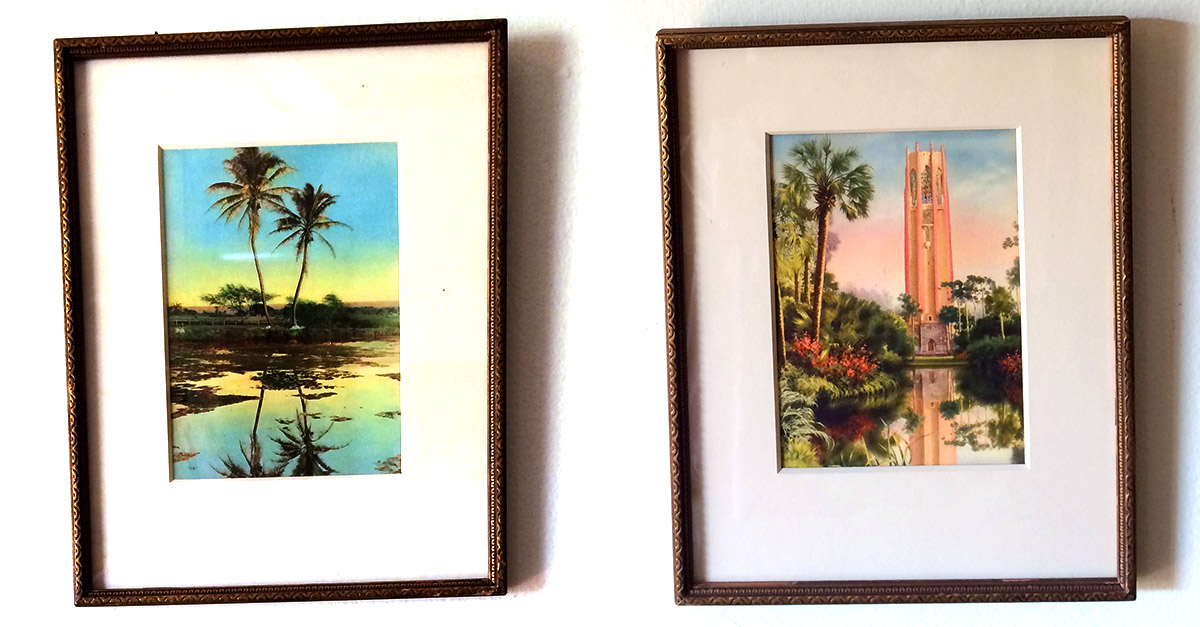 "You can't go home again" ― Thomas Wolfe
Thomas Wolfe was right when he said, "You can't go home again." But some of my things can, and their new home will be perfect for everyone.
These things, like the two prints you see above, will be comfortable in the warm Florida sunshine. They were never happy in my dark storage cabinet anyway. Now, in their new home, people will look at them and they'll look back, pleased. I want that for everyone, even my things.
They belonged to my mother, collected on one of her many trips to Florida. She had lived and worked in Miami Beach in the Roaring Twenties so she always had a fondness for The Sunshine State. These prints were her reminder of delightful times there.
Last December, Joyce and I spent a week at a friend's cottage in Fernandina Beach. We had recently visited Miami Beach and were shocked by the contrast, both in miles and attitude, between the southern and northern end of my mother's vacation state. Our visit to Miami Beach felt cosmopolitan and trendy while Fernandina Beach seemed relaxed and much the type of town my mother would have enjoyed.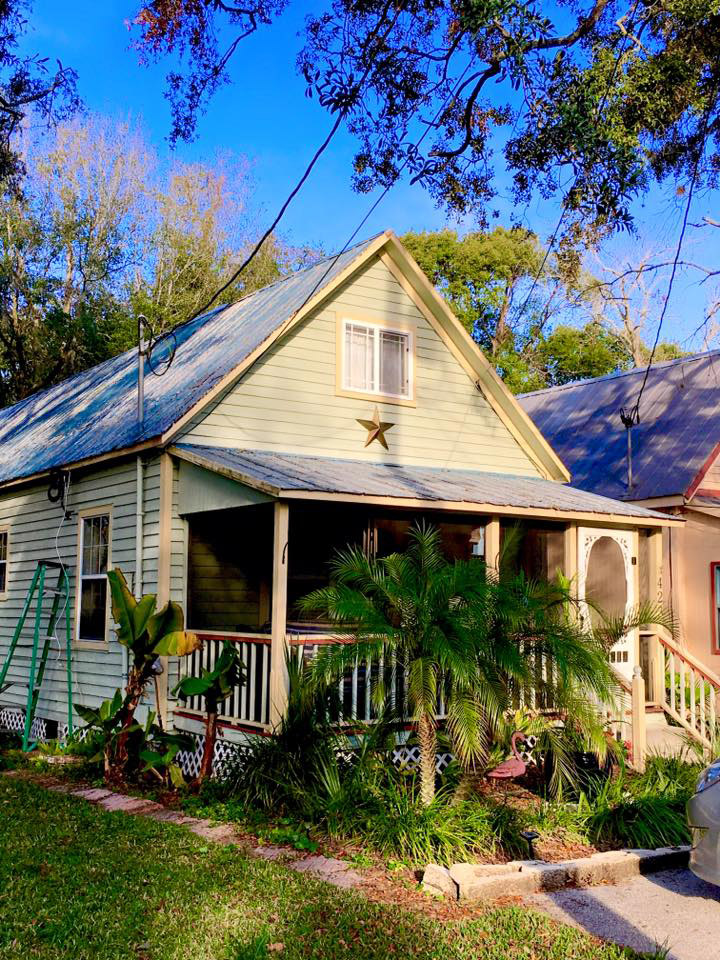 Wade Kirkland's home is filled with an eclectic mix of items that fit this relaxed community. It's a "shabby chic" Cracker House – located within easy walking distance of the historic down town shops and restaurants.
It's a friendly town with lots of front porches and pets. Plus welcoming neighbors.
Inside, he has several examples of paintings by the Florida Highwaymen, a group of African-American artists who, I've now learned, were a popular and prolific group, spawned by the work of A. E. Backus (1906-1990) and other landscape painters around Fort Pierce. Mother's two prints shown above, one of two palms, and the other of Bok Tower, seemed to be perfect companions for Wade's other treasures.
Back in Charlotte, I met Wade for coffee and offered my mother's prints as a Thank You gift. I'm glad he was pleased with them and their story.
"I love them, they are perfect for my cottage in Fern. If I saw them in a shop, I would buy them on the spot. They're going home now. You will need to visit them often."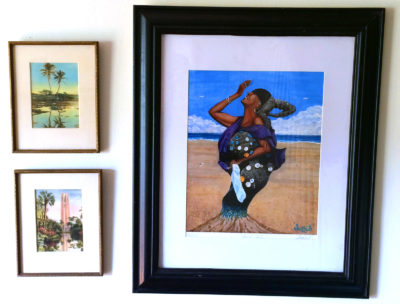 Today my mother's prints are at their perfect home in Florida. We'll see them the next time we visit and I'll get to meet the woman on the wall next to them. I don't know her, but I think mom would like her.
I am happy.
What things do you have stuck away in some dark spot that would be more comfortable out in the sunshine?
Where do you think they belong, where would they be most happy?
Have you thought about how you want your things to be as happy as you are?
As always, the conversation starts here.
"In the ordinary choices of every day we begin to change the direction of our lives." – Eknath Easwaran
Epilogue
Join me for a quick tour of downtown Fernandina Beach, it's all an easy walk from Wade's cottage. Or, if you'd rather, you can use the bicycles he keeps for guest to peddle into town.