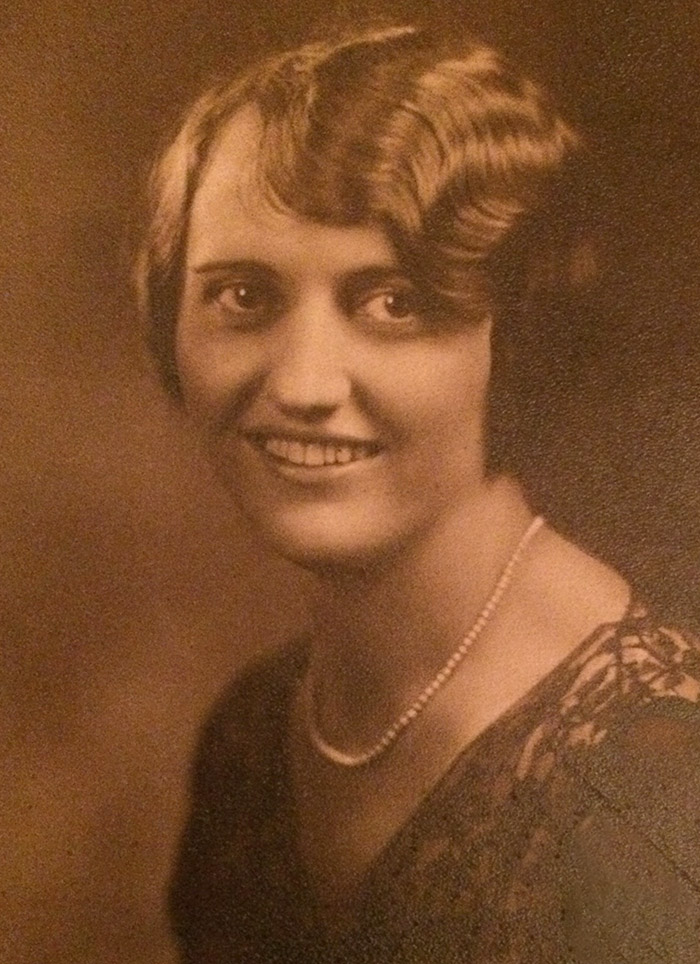 Helen Lorene Kaltreider
(1905-2004)
… I see my mother's choices in many of my own life choices – making my way in the world – living my dream.
My mother, Helen Lorene Kaltreider, was born on a farm in Tennessee on a mild and sunny Saturday – December 16, 1905. She was the youngest of Mattie and Daniel Kaltreider's three girls.
Mother and her sisters were close growing up, enjoying their lives. Farming in the early 1900's was hard work – it still is. I remember my mom's stories stressing the solidarity of her family and how they drew strength from spending long hours together around the farm.
Tragically, pneumonia took Mattie's life on March 15, 1913. My mother was only eight years old – her young world changed forever that day.
Her father suddenly became a single dad. For four years he looked after my mother, his youngest child, until he re-married. A single dad of an eight year-old girl would be a challenge today, but must have been even harder in those times.
Ethel, the oldest sister, was in her early twenties – she was out on her own. Edith was in her teens. Mother, however, was at a very impressionable age. She clung to her father; no doubt for love and companionship but also for fear of what else in her life she might lose.
Farm work is never ending, so with the loss of Mattie and with Ethel moving away, there were fewer people to do all of the work. My mother, even at her young age, needed to take a larger role – she learned and adapted quickly to all the hardship of that rugged lifestyle in the early 1900's. Mother, at age eight, started doing jobs on the farm that were well beyond her years. Maybe that is why when I went to get a job at age ten she was not surprised.
The skills my mother learned in those early years would surface years later. I would see, first hand, her ability to kill and prepare food – to clean and fix rabbit and squirrel. A cow brain and egg casserole one Sunday evening, when I was twelve, was the only thing I could not handle. I asked to be excused from the table that evening.
Back when Mother was twelve, she had bigger things to worry about then a dinner menu – when she was twelve, her father made a change that completely disrupted their routine.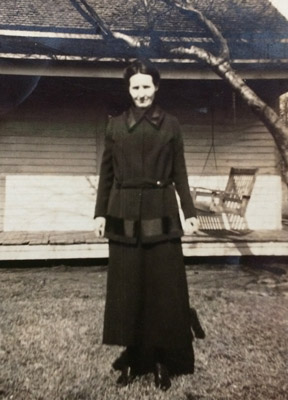 Daniel took a new wife.
She was a tall, thin woman identified on the back of the only picture we have as "Miss Alice, my stepmother who my father married…" in my mother's perfect handwriting.
Daniel's new bride did not take to farm life – and, judging from her picture, she probably didn't have the strength for it either. She preferred the city. They sold the farm – the only place my mother had ever lived and bought a general store in Pinson.
Mother's world was completely upside down – her mother dead – a new woman trying to take her mother's place – her father at age 45 with this new interest – her beloved farm gone – then moving into town.
Lonely and depressed, she bonded more deeply with her horse, her only friend at that troubled time. She rode her horse to school everyday, making sure to pack an extra apple so the two of them could eat lunch together – and talk.
Despite all these changes, and her loneliness, mother still found the strength and energy to help out with the family business – the general store – first after school and then more hours after her graduation. She kept the books and tended to the many request of the customers. She was good at both – with numbers and with people – a rare combination.
I hope our children and grandchildren have inherited this trait. I believe I have some of it.
Her work at the store kept her busy. They stocked absolutely everything – even caskets on the second floor.
It was the custom in those days for the store to have two rigs for burial ceremonies, one white with white horses for the white customers; and one black with black horses for the African American customers. That was the world of the South and my mother was comfortable in it – she got along well with all of her customers.
However, there was one person my mother never got close to – Miss Alice. When new half brothers and sisters came along mother pulled back even further.
It was now time for a change.
In 1923, at age 18, my mother visited Edith who was living in Memphis. She successfully applied for a position with American Telephone and Telegraph (AT&T), They offered her a choice of two locations: Miami Beach, FL or Henderson, NC.
Choices Do Matter and this was a very BIG choice. Mother was 18 – it was 1923 – the Roaring Twenties – mother chose Miami Beach over the closer to home location of Henderson, NC. As lovely as Henderson is today, I am sure that was an easy choice for any 18 year old – then or now.
She left home and never looked back. Of course she dropped in for a visit, but only rarely. She now had a new exciting life in front of her.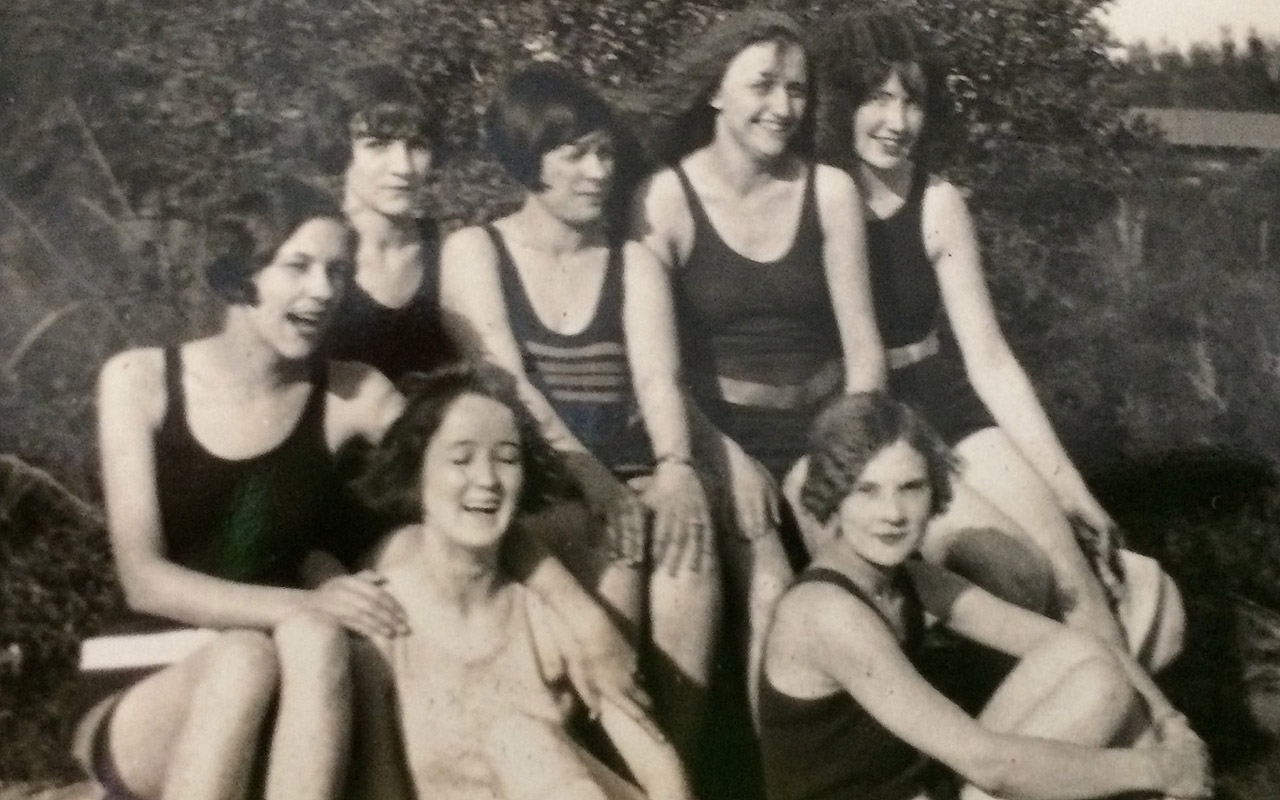 The Roaring Twenties were a time of major change for the world. 'Out with the old and in with the new' was the theme of the day as their modern technology introduced wide spread use of the automobile, moving pictures, radio and more.
The elders of the Roaring Twenties must have looked on the younger generation as every previous and future set of elders view the change in their children and their worlds.
Miami Beach was just developing at that time – acreage was being sold and businesses started. Miami Beach was a boom town.
The telephone girls lived in a second floor dormitory over the only drug store on Collins Ave. They worked shifts, sitting in front of rows of telephone equipment plugging the correct cord into the correct socket – most of the time.
As Miami Beach matured for AT&T, other areas of the country opened up. At age 21, she was transferred to St. Louis.
Sitting in front of the same type of equipment she could look out the window in her spare moments, often gazing at a shinny Ford convertible parked in the same spot each day. That looked like a fun car – top down, warm spring days – she wondered who owned it?
There was a fellow working on the equipment in the office who had tried to finagle an introduction to my mother but with no luck – until the day mother found out who owned the shinny convertible.
Kenneth McIntyre and Helen Kaltreider were married on December 16, 1928. It was my mother's 23rd birthday.
All of the Roaring Twenties fun was about to end however. The Wall Street crash the next year and the Great Depression that followed changed everything – and everyone who lived through it.
There was much in my mother's early years that she could not control. That is not unusual for children, but where she did have control, she made choices. She shaped her own future and embraced it fully. Choices Do Matter.
Did you lose a parent at an early age like my mother? How did it affect you?
If you have a step-parent, are you close to them or could you never accept it, like my mother?
My mother lost her mother at age eight, I was 19 when my dad died. Mother went off to work at age 18, dad was 17, I was 21. Both my mother and dad as well as Joyce and I have great stories of meeting, falling in love and marrying.
Why are you the way you are? Predestination or Free Will? Or some of both?
As always, the conversation starts here.