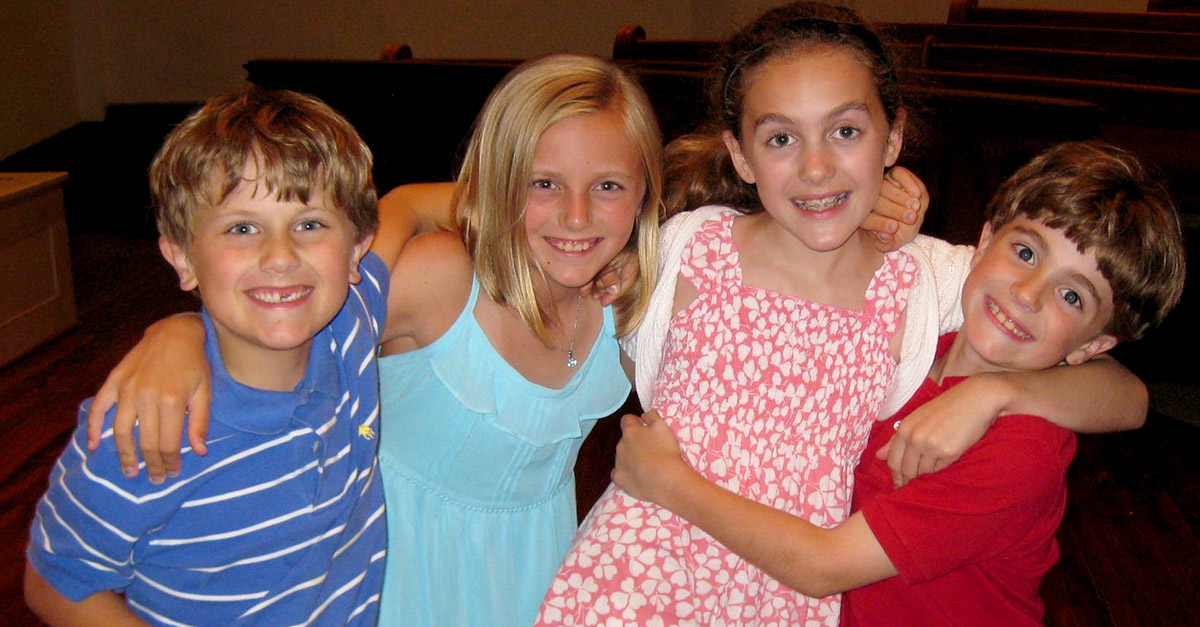 "Grandparents have a profound influence on future generations. Grandchildren thrive when grandparents are proactive in supporting and developing a relationship with their grandchildren, and grandparents thrive when they are actively involved in their grandchildren's lives." – from Grands Matter
Not so long ago my yearly calendar had days named just for me. My birthday, yes, but other days as well, each boldly blocked with two words, "Granddaddy Day."
How priceless is that!
It started in 2005 as my Christmas gift to our four grandchildren. I wrote each their own card announcing "Granddaddy Days." They were to be special days when we would spend time together, one grandchild at a time, for the full day.
The initial impressions that morning were not good.
One by one, as they got to my envelope, after opening and quickly scanning my words, they shook my card upside down for loose money. Finding none, just as quickly they tossed the card on the growing pile of torn gift wrap and other envelopes by their sides. They were busy – moving on to the next gift.
Priceless? Not quite yet. The oldest was seven and the youngest only three. This idea needed more work, starting with the parents. Over the next few days I explained how the idea was to include only one child at a time for a full day of fun together. Each grandchild could pick and plan the activities for the day, with some help and approval of course.
Now, with the parents on board, I went to work on the grandchildren. Locating open days on any calendar is hard, even for young children.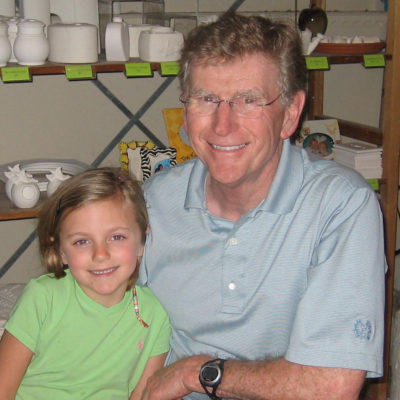 Ellie's first granddaddy day was Friday, March 17, 2006 – Saint Patrick's Day. Did we have green eggs and ham for breakfast? I doubt it, but my faded notes do tell me about how cute Ellie looked in her green sweater, selected for our patron saint.
That morning we stopped by McIntyreSales for a quick tour and a chance to introduce Ellie to my co-workers. On our tour she asked, "Just what do you do in this place Granddaddy?" At six years old, that's a mature question and required a careful answer. She listened and then welcomed the food samples and mouthwatering literature we took with us on our way to the pottery shop where she could decorate and have her creations fired in the special oven. Art is still one of Ellie's passions.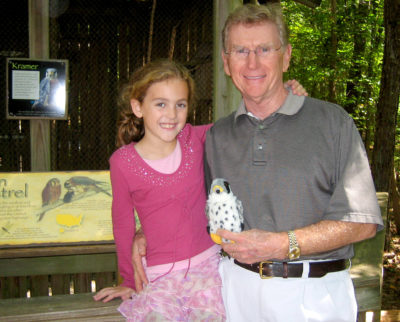 The following month, we found the first free day for the oldest. Elizabeth chose a trip to the Carolina Raptor Center.
There's no better spot to introduce the next generation to nature than right here in Mecklenburg County.
Along the way we made an unplanned stopover at McIntyre Farm where Elizabeth learned about the Battle of the Bees.
A few days later, Kenny and I spent our first day. He had one stipulation before beginning our long day. He needed to watch his favorite TV show, Peep and the Big Wide World. That morning we ate breakfast together watching Peep, Chirp, and Quac on another adventure. There's more practical education in children's television than my generation remembers.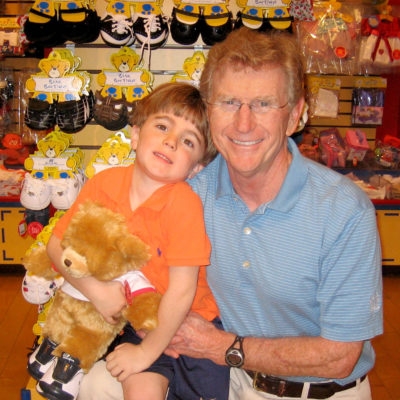 After Peep, we were off to Build-a-Bear. It's a spot all our grandchildren chose at least once on our many special days together. I was new to Build-a-Bear and was impressed with all the thought Maxine Clark, the founder, put into her idea. Every accessory imaginable was on display, you could even give your bear it's own red heart.
I planned to just watch until the sales person asked if I would like to build my own special bear, explaining, "We have arrangements with orphanages who need bears made with the love you, as a grandfather will provide. You build the bear and we'll handle the rest, you can even add a note if you like."
That offer is impossible to turn down, especially in front of your grandchild. From then on, I ordered two bears each time we walked in the store.
Our youngest, James, waited until almost the end of the year before celebrating his first granddaddy day at Discovery Place, where we could also see a movie. The IMAX theater is renowned for its huge screen so imagine how incredible that experience was for a five year old. James was thrilled and loved every minute of Happy Feet.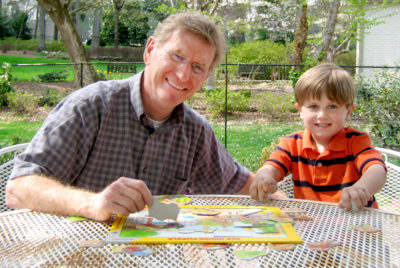 Seeing the world through the eyes of my grandchildren is wonderful.
I often think about where their curious minds will take them as they grow.
Look at the excitement in James' eyes as he completes a puzzle on another Granddaddy Day.
I now realize how my gift in 2005 was actually a gift to me, but I hope they also found value in our days together. Our four grandchildren are older now, and remain best friends. They continue to enjoy time together, sharing their adventures. I hope they always will. And, maybe they'll pass this tradition on to their grandchildren.
Joyce and I are fortunate to have both our children and their families in the same town. Many families don't have that privilege.
Our "Granddaddy Days" lasted for several years until it became increasingly difficult to find blocks of time. Now we do what we can, it's still good, just different.
What memories do you have of time with your grandparents? Were their planned out days or did the time just happen?
If you were alone with one grandparent, how did that special time affect you?
What plans do you have for time with your grandchildren?
As always, the conversation starts here.
"In the ordinary choices of every day we begin to change the direction of our lives." – Eknath Easwaran
Epilogue
Watch this video and see if you agree with Roma Hanks, Ph.D. when she said in 2016, "It is my belief that grand-parenting is the most important family role of the new century."