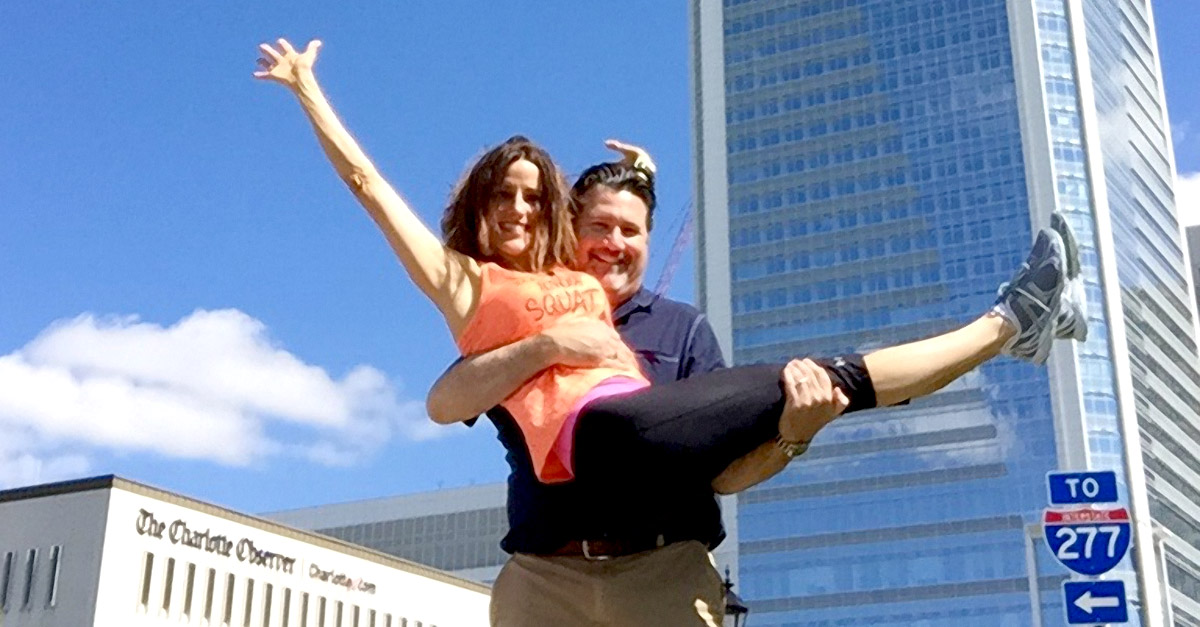 If they could see me now, that old gang of mine. If all my friends could see me now. – Songwriters: Cy Coleman and Dorothy Fields. From the Broadway Musical "Sweet Charity", 1966
There are easier ways to the top, but the stairs are the most rewarding, especially for this superstar.
I met Linda Viner after a 5K race. Linda blew away her age group and I was fortunate in mine. Despite her achievement that morning, Linda was ready for more. She invited me to join her to run stairs later that day, I didn't know what that was. Now that I know, I'm glad I chose not to join her.
Linda is a nationally ranked Tower Runner. Those are the competitive stair climbers who travel the world racing up the tallest buildings. But she didn't always feel like a champion, as a child she felt awkward and out of place as if she would never fit in.
"I grew up in Brooklyn and was not exposed to sports. I didn't even know how to swim. When I was 12, we moved to Southern California. I was totally out of my element. With my thick Brooklyn accent, curly hair and no fashion sense, those years were awful. I wasn't good at anything.

"My parents put me in swimming lessons and I tried running. In high school, I joined the track team plus the swim team.

"I always finished dead last.

"But life went on; I finished college and began working. In my late 30's I decided to try running again. When I moved to Charlotte in 2010 I got serious. Working with personal trainer Stephanie Hucko helped me get stronger and faster. Plus I gained some needed confidence."
That is when Linda reinvented the girl from Brooklyn.
"I was hooked on fitness. I got certified to train indoor cycling, group exercise and offer personal training.

"Tower Running or stair climbing, came next. It was a totally new and exciting world for me. My first competitive climb was the Duke Energy Building in Charlotte in 2013. I've now climbed the Sears Tower, One World Trade Center, and the Stratosphere in Las Vegas, along with others.

"The big reward for me is the opportunity to raise money for the causes I care about – causes that help people who can't do these things. I love all of the organizations involved in this sport but my favorites are The American Lung Association and the Tunnel 2 Towers Foundation. I've been part of raising $33,000 so far and I have many more stairs to climb."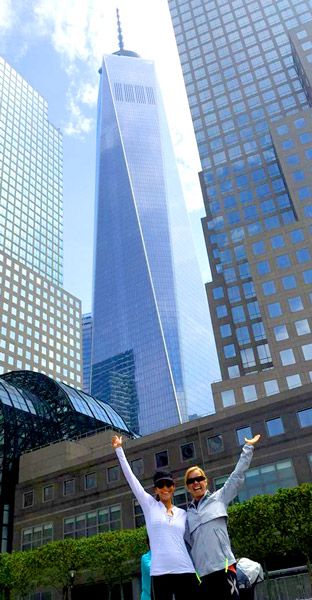 Linda's proudest moment was her finish in the Inaugural Tunnel Two Towers Climb at One World Trade Center in NYC in May of 2015.
That spring day, Linda bounded up 90 stories in under 17 minutes to finish second in her age group and fourth of 300 women tower runners. She is now ranked #7 female tower runner in the country.
Linda has come a long way from her awkward days in Orange County and the world is a better place for all of the drops in the bucket Linda has provided for so many who are less fortunate.
Do you know Linda? What do you know about her?
Tell us about other people you know who have made a choice to go from being in last place to the front of the pack.
How do you feel about supporting someone who is doing something for a worthy cause with your donation rather than just making a contribution?
As always, the conversation starts here.
"In the ordinary choices of every day we begin to change the direction of our lives." – Eknath Easwaran
Epilogue
Here is who benefits from climbs like One World Trade Center. You need to watch: