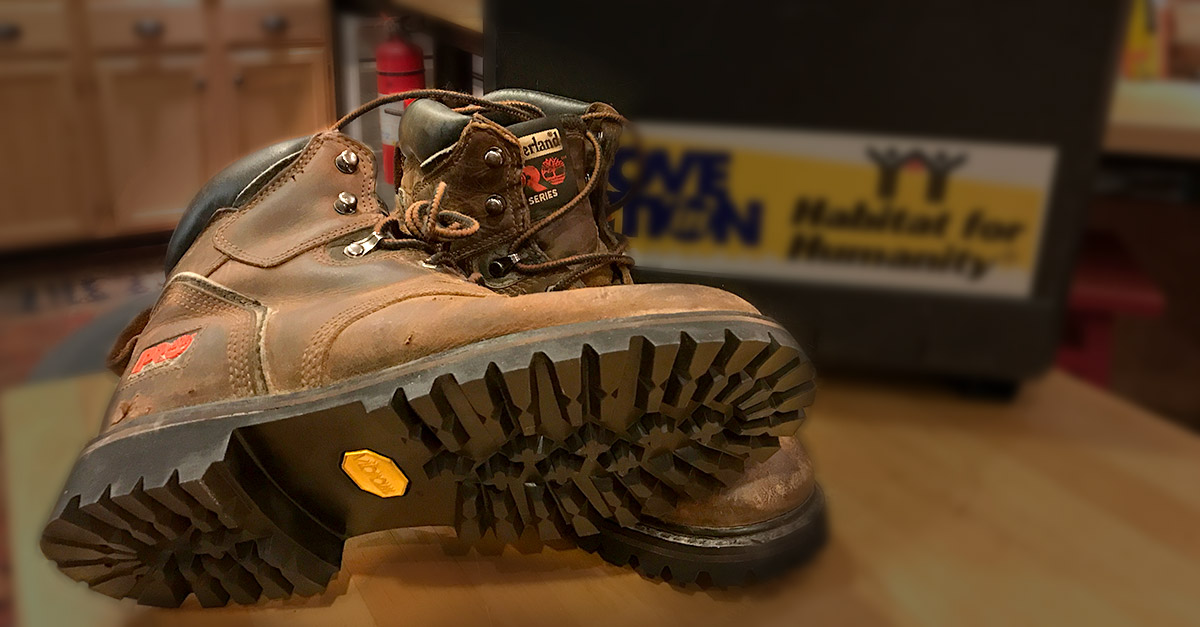 "The worst threat from a consumer society is the toll it takes on the environment: in the burning of fossil fuels, in the release of toxic industrial wastes, and finally in the problems of how to get rid of the trash." – Eknath Easwaran, from "Original Goodness"
There are things I count on as always being there. Close to the top of my shortlist are my work boots. They're comfortable and do their job without any fuss. They are always there for me, like old friends.
They've traveled locally and abroad, having been sturdy partners on numerous Habitat for Humanity builds both in Charlotte and El Salvador.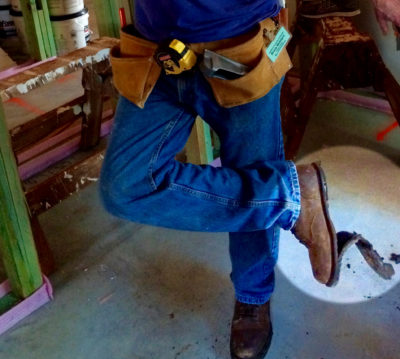 My boots don't get used everyday and sometimes I assume they will be just as ready to go as they were the last time I wore them. I don't think of them as being tired or wearing out.
That's why it was such a surprise when the sole came off while doing drywall recently.
My friends said, "Go to Walmart and get a new pair," but I reminded them how I wasn't buying any new clothing this year. Besides, I like these boots.
So the next day I stopped in Dean's Shoe Repair. It's a local family business run by Mohamed and Holly Mahfoze.
"Yes, they'll be almost like new," was the verdict, "but the cost will be the same as a new pair, maybe more, and all the scuff marks won't go away."
It would have been an easy decision back before I began my Choices Do Matter journey of No More Stuff in 2016. I would have pitched them in the trash and gone shopping.
My vow to stop buying stuff in 2016 has helped me realize how often we throw things away, both in our personal lives and our community settings. Chasing the shiny thing is more fun than fixing-up the scuffed. Tearing down is easier than building up.
So I told my friends at Dean's to do the right thing, it would be good for their local business and good for the environment. One new pair of boots would not be produced and one old pair of boots would not take up space in the land-fill.
Plus, I'm adding to my collection of worn-wear.
Worn-Wear is my new status symbol. It's the shirt I patched after my puppy tore the sleeve. It's the old sweater I always grab because I can tell you about each stain. Worn-wear has stories from all of my adventures, stories with more memories than any new item could match.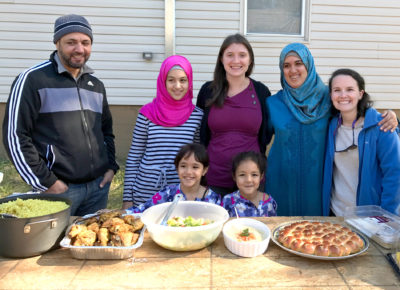 Now I have my almost like new boots thanks to Mohamed and Holly. They helped me do the right thing. And I'm ready for the next Habitat for Humanity project – and whatever other work boot required adventure comes along.
How much worn-wear do you have? Take a look at some great Instagram examples.
Maybe it won't save the world, but it's a start.
Are we too quick to throw out, tear down, get new, build shiny? Can you give me some examples?
Do you know that there are only 7,000 shoe repair shops left in the US, down from more than 120,000 during the Great Depression? Why do you think this is? The Wall Street Journal attributes the decline to young workers not wanting to learn this humble trade, but more to our notion of disposable clothing and the idea of tossing things every six months to buy new from the discount store.
Do you know anyone who is guilty?
You, maybe?
Epilogue
Have you ever worked on a Habitat home? It's fun. You need to do it. And now, with my worn-wear boots, I can join you.